Our Services
The Digital Marketing Magic
When it comes to digital marketing, there sure is a lot of mystery. We wizards understand you weren't born to be a slave to the mysterious workings of digital mastery. When you're busy running your business, who has time for that anyway? WE DO! 
Marketing Can Be Overwhelming.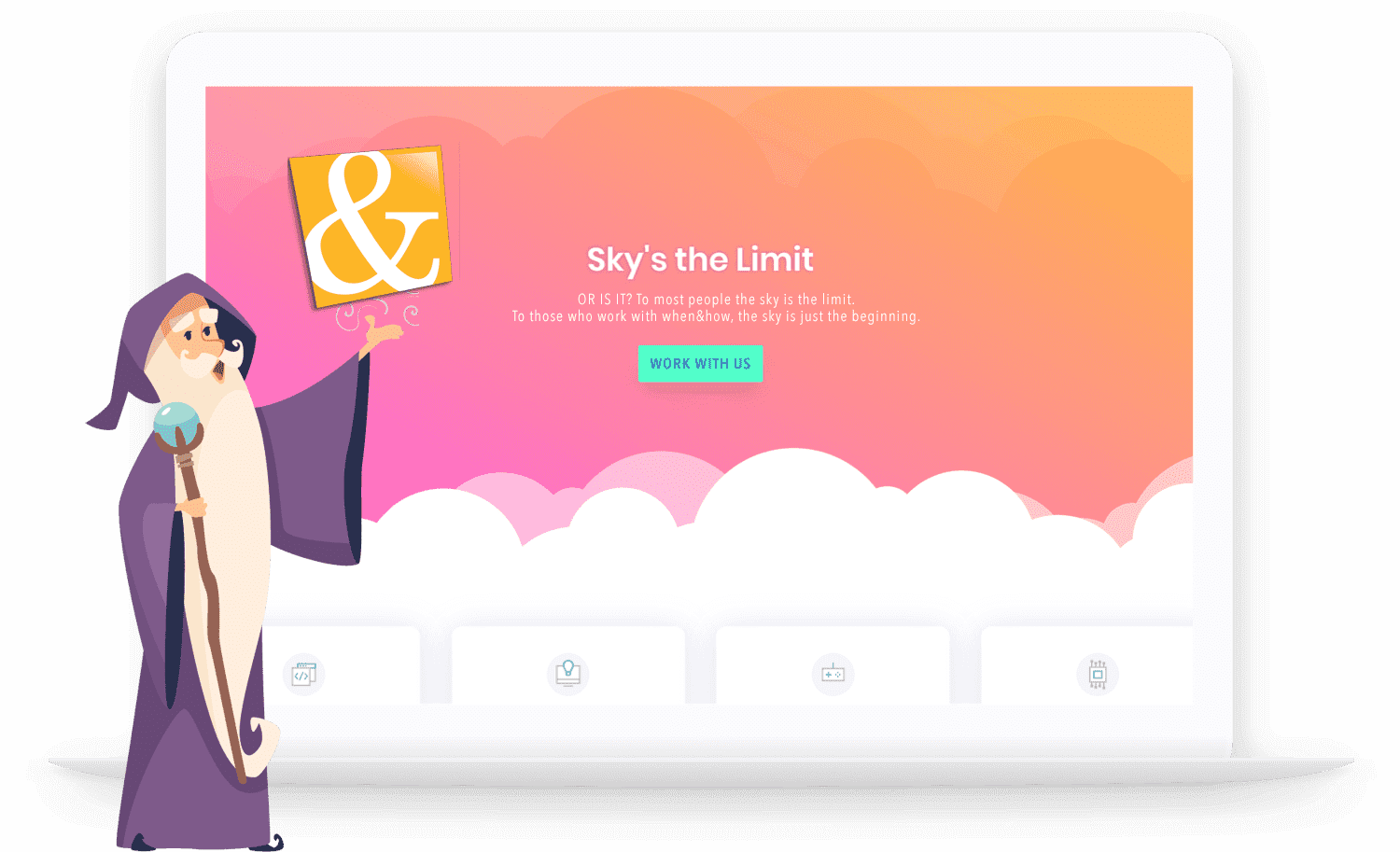 The Good News Is, You Have Options.
The Better News Is, You Have Us.
Web Development
We'll build you a stunning custom website that captivates visitors and ensures their experience is a memorable one.

Learn More
Thanks to our advanced tools and development team, we keep your site up to date with the latest SEO and mobile strategies, which means customers can easily find your business in local search.
Take advantage of responsive design.
Scale to the size of whatever screen your site is being viewed on—mobile, tablet, or desktop.
Integrate your social profiles.
Connect your social media profiles for higher traffic volume and consistent branding.
Edit content without worrying about code.
Update and publish content without any coding knowledge through our intuitive dashboard.
Search engine optimized.
Ensure that your site follows all of Google's latest requirements so that customers can easily find you.
Maximize your conversions.
Use large buttons, integrated coupons, and engaging images that provide clear calls to action for your customers.
Create custom content.
Work with us to build your vision on how you want your site to look and feel
Mobile-friendly websites are a necessity.
The mobile revolution is in full swing, and if you haven't gotten on board, your business is suffering. Both search engines and customers demand mobile-friendly sites—Google now ranks them higher than their desktop-only counterparts. Plus, 4 out of 5 consumers use smartphones to do their shoppingIf your site isn't mobile-friendly, you're losing online visibility to mention customers) at an alarming rate. Contact us today and we'll get you back in the game in no time.
SEO/SEM/Link Building
Increase your online presence. Increase your real-world profits. Maximize your budget with SEO results that will rapidly grow your business. 
Learn More
Maximize your budgets by leveraging our volume discount pricing with our industry leading SEO partners; Boostability, Alpha SEO and SEO Network. Passing the savings through to our clients allows us to focus on helping you rapidly build your businesses
Alpha SEO
Deliver real SEO results to grow your business. Alpha SEO optimizes a website's onsite and offsite's characteristics and uses artificial intelligence to parse through algorithm updates and make rapid adjustments.

Boostability
Boostability's SEO service makes it possible for businesses like yours to compete online by moving your websites higher in local search rankings. Why is it important to rank well on sites like Google and Bing? Because over 81% of consumers search online before making a buying decision. With over 1.8 Billion Google searches a day, you need to be found online. We will help your website rank higher, get noticed, and drive more sales.

SEO Network is a fast and effective service that adds high-quality content with authority to any website. The network will address important ranking signals used to determine the value and relevancy of a website for its selected keywords.
Social Media Management
93% of shoppers' buying decisions are influenced by social media. Most business owners recognize that being active on social is not only essential for staying in touch with customers, but also for growing their revenue.
Learn More
Managing your social networks is a lot of work. It takes time, resources, and social media expertise that most local business owners don't have.
Put stress to rest.
With our Social Marketing services, you'll gain the social exposure your business needs, improve customer engagement, and increase web traffic—all at the same time while barely lifting a finger. We offer DIY, DIWM (do it with me) and DIFM (do it for me)
Manage social networks from one location.
Monitor Facebook, Twitter, Foursquare, and Google+ content from one easy-to-use dashboard. Whether we're in the driver's seat and you need a place to monitor or you're driving — bringing everything under one roof saves you time and money and puts all your insights in one place.
Gather ready-to-publish content.
Save time and energy with customizable settings that allow you to find and republish your industry's hottest news.
Post to multiple social channels.
From one tab, you can publish content to multiple social sites with the push of a button.
Receive real-time social leads.
Discover and interact with leads who are looking for products and services like yours in real-time.
Schedule posts in advance.
Set-up and preview posts before you publish and build all of your week's content in one sitting, Or work with our team on a monthly content calendar and we'll produce your weekly scheduled posts while you handle the day-to-day interactions.
Track performance across profiles.
Get important stats that provide insights into your social profiles for better content strategy and customer engagement.
Content/Experience
Build your audience and wow your readers with highly optimized custom content each month. Per post and cost-saving monthly Package options available.
Learn More
Our skilled content team works with you to create custom monthly content on the topic(s) of your choosing. This service includes monthly blog posts consisting of 250-400 words, linked sources, and an image. These images can be provided by you or selected by our team to support the written content. Improve brand awareness and get your message out there with a custom monthly blog post or several blog posts per month!
+ Build trust between your business and your customers. Blogs can help establish you as an authority in your field.
Drive customers to your website! This boosts customer awareness of services and products and strengthens your SEO standing.
+ Consistent blog posting solidifies your web presence and encourages customers to visit your website.
Listing Management
Inconsistent business listings can spread across the web like a deadly disease, affecting major online directories and search engines that control local search results.
Learn More
Guess where they're going? 

Reputation Management
97% of consumers find local business info on the web. Need a way to see what your customers are saying and a platform to join the conversation?

Learn More
Take control of your online brand.
Reputation Management allows you to take control of your online presence by allowing you to correct your business listings, monitor and manage reviews, observe what competitors are doing, and much more.
Monitor reviews*
Receive an alert the moment a review is submitted on all of the most popular review sites, including Yelp, Facebook, and Google+, as well as a ton of sites that are relevant to your specific industry (e.g., TripAdvisor,RateMD, Cars.com, etc.).
Generate reviews*
Easily gather new reviews from delighted customers and ensure that negative reviews stay private.
Advanced listening.
Find "mentions" from news sites, blogs, and social networks so you get the full picture of what people are saying about your business.
Competitor insights.
Monitor what your competition is doing online and build strategies to gain more customers in your area.
Simple social media management.
Save time by using one platform to monitor and analyze your social media efficacy.
Monitor web presence.
View the accuracy of your business listing data across the web on all of the major directories and citations. Listings are crucial to making sure people can find you on Google.
Reputation Management Executive Reports.
Get a high-level view on all aspects of your online reputation through weekly executive reports.
*Ask us about fully managed services by our team of digital specialists – saving you time and money.
Digital Advertising
Potential customers are within your reach, whether they're searching Google, scrolling through Facebook, or browsing other sites. Put your business in the spotlight so that those people consider you before your competitors.
Learn More
Digital advertising puts your business in front of your target audience on search engines, social media, and other relevant sites across the web.
To make sure people see your business first when they search for products and services nearby, you need to be top of mind. We can help!
Display Ads
Capture your target audience's attention with custom banner ads.
Display ads appear in the form of banners across websites being viewed by your target audience. Our team of digital advertising strategists can adjust your targeting options based on demographics, interests, location, and browsing behavior to optimize your budget.
The benefits of Display Advertising
While search ads are text-based, display ads use eye-catching banners that deliver your message, making them more noticeable by the target audience. Banners are highly customizable and incorporate your branding, helping build awareness for your businesses. A well-designed display campaign can also make your client look more professional and stand out from the competition.
Facebook & Instagram Ads
Harness the power of Facebook and Instagram with highly-targeted ads.
When it comes to building a strong online presence, your business has to be where your customers are, and today there are approximately 3.5 billion people using social media, which is almost half of the worldwide population.
Having an active social media profile is vital to attracting potential customers and retaining existing ones, but that's not enough. With the popularity of Facebook and Instagram on the rise, social media is becoming a "pay to play" field, forcing businesses to combine organic and paid efforts to achieve desired results.
Our team of digital advertising strategists can help you increase website traffic, drive more conversions, and succeed on social media through targeted campaigns on Facebook and Instagram.
Benefits of Social Media Ads
Social media advertising is very cost-effective because advertisers have a wide variety of targeting options at their disposal. You can build your target audience based on demographics, interests, location, relationship status, education, household income, and life events.
Advertising on social media is also a great way to get customer feedback because they can express how they feel about your business's products and services. Customers want to be heard, so use that in your favor.
Google & Bing
Advertise on search engines to drive conversions to your local business.
With paid search, you can advertise on search engines like Google and Bing to drive conversions to your local business. In other words, you'll serve ads to potential customers exactly when they're searching for your service or product.
Google is the world's most popular search engine: It processes an impressive average of 63,000 searches per second every day. A significant portion of these searches come from consumers ready to buy. They're searching for things like "dealerships near me" or "restaurants open now", and you can use this information in your favor.
The benefits of paid search advertising
You'll have a highly engaged target audience. Our team of digital advertising strategists will carefully choose relevant keywords for your ads to make sure we'll target only people actively searching for your products or services.
With that comes improved ROI because we're targeting potential customers who are more likely to convert. Even when people don't click on your ad, you're still getting more visibility by promoting your business on search engines like Google and Bing.
YouTube
Reach your target audience with video ads on YouTube.
YouTube is one of the top providers of media in the world! Take advantage of that tremendous reach with YouTube advertising and get your business the exposure it needs to thrive in a competitive market.
Our team of specialists can target ads to consumers based on specific demographics (age, gender, household income, and parental status), interests (travel, tech, beauty, and sports), searched keywords ("how to repair an iPhone", or "top 10 beauty tips"), or even on specific Youtube channels.
Utilizing Youtube's TrueView in-stream ads, our service will typically play your promotional video pre-roll, which is an ad at the start of a short user-selected video, but they can also appear in-stream (mid-roll) if the video is of considerable length.
The benefits of YouTube ads
Because YouTube is both a search engine and a social media platform, you can target potential customers who are seeking information and willing to interact with your brand(s).
Videos don't need to be professionally made to drive results. Sometimes a video shot with your own camera or smartphone looks even more authentic and original.
Lastly, YouTube video metrics can help you identify which videos your customers are watching and for how long, so we can use that information to optimize campaigns.
LocalAds
Improve your advertising campaign ROI with LocalAds technology
LocalAds is powered by sophisticated advertising technology that allows advertisers in North America to serve ads to potential customers wherever they are, at the right time. Our team of digital advertising strategists can use LocalAds to run online advertising campaigns with improved ROI for your business.
Why LocalAds campaigns perform better
LocalAds can predict both offline and online user behaviors to serve ads more efficiently. It makes this happen by examining your audience's location data and the devices they're interacting with.
While other advertising technologies can target a specific location, LocalAds analyzes sequenced physical locations to establish a link between them, learn how your potential customers behave, and improve your campaign's performance while tracking every important conversion.
Click here to see a LocalAds live report sample.
One audience; multiple platforms
All LocalAds campaigns are display campaigns, but you can purchase additional spend to expand your campaign to other platforms. Based on your campaign goals and ad spend, our digital advertising strategists can combine LocalAds display with other platforms such as search, social, and video. The technology we use makes the information easily flow from one platform to another.
Creative Services
 Let us know what you need designed and our professional design team will provide world-class design services that will keep you coming back! 

Learn More
Do you have a unique graphics design need? We can help! Simply contact us with your requirements for a free quote. Depending on the scope of your needs, we can offer hourly rates or a cost-saving flat rate.
Graphic Design continues to be a fantastic path to long-term client relationships, which is why we love to continue offering these services on a one-off and retainer basis. We're ready to provide best-in-class design services with unlimited revisions at whatever level makes sense for you and your business.